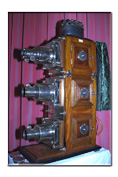 Triunial Magic Lantern

Commissioned by the Science Museum, London, to be used on a film set, this rather beautiful instrument is a working replica of a Triunial Magic Lantern.

Magic Lanterns were used in the 1800's mainly for entertainment. This example consists of three projectors which superimpose pictures on top of each other.

The pictures were painted on glass and inserted into the projector. By going from one projector to another a miniature moving picture could be created. In the old days oil lamps and later arc lamps were used for illumination. As the use of these was not an option Micrarium Enterprises was asked to provide the optics and more modern projection illuminators for this working model.